SUMMER SCHOOL OF ROBOTICS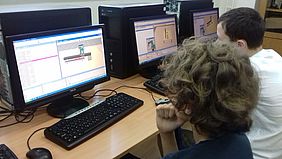 According to the mentioned plan and program, the Summer School was held by Mr. Milan Bijelić, B.Sc. engineer. During the 19th, 20th, 21st, 23rd and 24th June, 9 students of the 7th and 8th grade primary school attended.
"Progress of science and technology has enabled us to be surrounded by robots in everyday life, although we are not thinking about it in this way, because robots so much facilitate and simplify life so that we can hardly imagine life without such aids and apparatus . If our society does not wish "to lag" after technologically advanced countries, irrespective of financial resources intended for the development of new technologies, it is very important to popularize robotics, "says Bijelić, who also engaged as a member of the Management Board of Nikola Tesla. He announced a systematic work on a larger popularization of robotics, but from the next school year, both in elementary and secondary Karlovac schools as well as in kindergartens, by holding workshops and courses with various types of drones and cameras.
As prof. Mirko Butković, president of the Nikola Tesla Karlovac Association, who is the organizer of the Summer School of Robotics, said, this school is pilot project. It is information for organizers how to prepare future workshops and courses. He announced that from the next school year he intends to popularize science, technology and innovation in all educational institutions, with particular emphasis on curiosity, which is crucial and which is the driver of all the great and small discoveries.
- Humans are being who are able to copy and are curious. It is up to us to encourage more and more people to put question, to explore and are curios, and to develop and direct these qualities in the right direction, which is the science and technology that allows development of society and its future, concluded prof. Butković.
SUMMER SCHOOL OF ROBOTICS
PROGRAMING INDUSTRIAL ROBOT
1. INTRODUCTION (30 minutes)
- definition of industrial robot
- division of industrial robots by purpose
- robot parts and their mode of motion
2. ROBOT PROGRAMMING (60 minutes)
- programming modes (using pendant and external computer)
- programming in Robocell; a program for working on a simulator
- Programming in Scorbase; a robotic hand learning program
3. WORKING CONDITIONS (90 minutes)
- Slide Trail - Mobility of Industrial Robots
4. APPLICATION OF AUXILIARY UNITS (90 minutes)
5. ROBOT HANDS AND MACHINE TOOLS (90 minutes)
- milling machine (30 min.)
- drill machine (30 min.)
6. WORKING PLACEMENT (90 minutes)
- a robot and two machine tools with all the other devices essential to the technological process.
- seminar duration 10 school hours (two hours per day)
- in the case of a larger number (13 and more) of the students concerned,
- 12 simulators and Robocell programs will be used in the seminar
- programming the robotic arm Scorbot ER 4 U
- a program for programming a robotic hand Scorbase